Home » Kashmir Tour Packages » Vacation in Kashmir

---
Duration : 10 Nights / 11 Days

---
Day 01 - Pick up in Delhi Transfer to Amritsar
Today we will pick you up in the morning from your hotel & proceed to Amritsar. Enroot you will drive through Punjab. By evening arrive in Amritsar & check into your hotel overnight. Rest of the evening is free for you. IN case you want hotel & Pick up for the first night in Delhi same can be arranged. (In case of any difficulty in finding our representative, you can call us at +919818243600).

Day 02 - Full day in Amritsar & City Tour & Wagha border tour.
This morning after breakfast proceed to First to Golden Temple in the morning. From there city tour of Jalianwala Bagh A historical monument that tells the sad story of mass killing during the independence movement in India, Here lies the memorial of the martyrs of the 1919 massacre by British General Dyer. From there you can visit Durgiana Mandir.By late afternoon proceeds to. By evening you will leave to visit India-Pakistan border, which is also known as Attari(India)-"Wagah" (Pakistan) border. A visit to the border is an interesting experience, especially at sun-set, when the retreat ceremony takes place with the Border Security Force (B.S.F.) on the Indian side and The Sutlej Rangers on the Pakistan side putting up a well co-ordinated and spectacular display which compares very favorably with the changing of royal guard in London. By late evening you will return to your hotel from there you can visit the golden temple in night or you can rest in the hotel.

Day 3: Amritsar to Katra
Amritsar to Katra This morning after breakfast proceed to Katra. Upon arrival check into your hotel. Rest of the day is at your leisure. OR you may proceed by walk start 13 km trek by foot. Or by palki/horse to reach Vaishno Devi Temple to have early morning Darshan of Mata Vaishno Devi. Or you can rest in the hotel & Enjoy the greet mountains spectacularly beautiful of katra. overnight in hotel.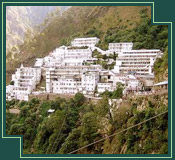 Day 4: Darshan Mata Vaishno Devi
This morning after breakfast proceed by walk start 13 km trek by foot. Or by palki/horse to reach Vaishno Devi Temple to have early morning Darshan of Mata Vaishno Devi. After having Prasad proceed to Bhairo Baba Temple. The journey to the Holy Shrine of Shri Mata Vaishno Devi Ji starts with the Call of Mata. It is not only a belief but also a strong experience of one and all that the Divine Mother sends a call to her children. And once a person receives it, wherever he is, is bound to visit the Mother to receive Her unbounded love and blessings. There after proceed to katra by walk. Overnight at Katra

Day 5: Katra Srinagar via Patnitop
This morning after breakfast drive to Srinagar via patnitop enroot you can see some breath-taking views of the Greet Himalayan mountains through out the journey. Upon arrival check into your hotel/houseboat. Rest of the evening is at you leisure. About Srinagar is located in the heart of the Kashmir valley at an altitude of 1,730 m (1530 feet) above sea level, spread on both sides of the river Jhelum. The Dal Lake enhances its picturesque setting, while the changing play of the seasons and the salubrious climate ensures that the city is equally attractive to visitors around the year.

Day 6: Srinagar Mughal Gardens & Dallake Tour
This morning after breakfast visit The City Of Srinagar. The world famous Mughal Gardens visiting the Nishat Garden known as 'Garden of pleasure' built in 16PthP century (1633) by Mughal Emperor Asif Khan. Then visiting Shalimar Garden known as 'Garden of love' built in 16PthP century (1619) by Mughal Emperor Jahangir for his beloved wife Noor Jehan or (Mehr-un-Nissa) The Chasme Shahi Garden and then pay visit to famous Shankaracharya Temple situated on top of Hill where you can have a look of whole Srinagar City. In the Evening Shikara ride on The Dal Lake to enjoy the beauty of the Charchinar, Floating Gardens & The God has graced this city with, which is often compared to Venice. You will get view of some very interesting places around the Lake. Overnight at Houseboat/Hotel.

Day 7: Srinagar to Sonmarg to Srinagar
This morning take a full day excursion to Sonmarg, passing through the spectacularly beautiful sindh valley and picturesque villages. Enroot you may stop at many beautiful spots. Continue drive to Sonmarg 2690 Meters (Meadow of Gold). In Sonmarg One can ride on horse to visit Thajiwas Glacier where snow remains round the year. Sonmarg is known as Gateway of Ladakh.it also serves as a base camp for Amaranth yatra. In the evening return to Srinagar. Overnight at Houseboat Or Hotel.

Day 8: Srinagar to Gulmarg
This morning after breakfasts precede to Gulmarg the most beautiful Summer resort It is also popular for its highest golf course in the world & greet mountains surrounded & famous for skiing during the winter season. One can have Gondola ride (cable car) from Gulmarg to Khalinmarg.or Horse riding. A Greet winter Destination for honeymoon lovers. Gulmarg spellbinding beauty with its attractive meadow of flowers allows one to understand why Kashmir is called paradise on Earth. At end Remained a favorite hill resort of the romantic Emperor jehangir. Tourist Love this palace. Overnight in gulmarg.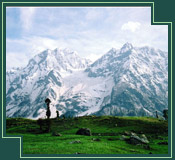 Day 9: Gulmarg to Pahalgam
This morning after breakfast drive to Pahalgam 2440 Meters (Vale of Kashmir), Enroot you will visit The Awantipura ruins, Saffron fields One of the most beautiful places on earth, the town of Pahalgam offers breath-taking views. Pahalgam is also the entry point for the famous Amaranth Cave, a holy site for Hindus. Upon arrival check into your hotel. & After lunch enjoy the nature charm of the valley. Overnight at Hotel in Pahalgam.

Day 10: Phalgam Free Day
Today you have free day in Phalgam to enjoy breathtaking views of greet mountains. The most beautiful of these is the huge, undulating meadow of Baisaran, surrounded by thickly wooded forests of pine. You can take walk in around the Phalgam is an idyllic spot for a picnic. Filmgoers will recognize it instantly as it has been the location of several movies. Attractions in Phalgam River rafting Pahalgam offers white water river rafting in the river 'LIDER" during April to August. Trout Fishing Pahalgam is angler's paradise with brown & rainbow varieties of trout for fishing. Around the vicinity in Pahalgam one can visit Pahalgam Club which has lovely lawns, Bobby hut Or take walk to the streams & enjoy the greet mountains in around you. Overnight in Pahalgam.

Day 11: Phalgam to Delhi for Onward Journey
This morning after breakfast you will precede to Delhi. Upon arrival you will be drooped at your place or overnight at hotel in Delhi. In case you want stay on the way or at Jammu same can be arranged for you. Arrival time in Delhi will be midnight. OR in the morning.



Tour Ends With Sweet Holiday memories
Your Tour Includes:
Warm welcome at Delhi airport.
02 Night accommodation in Hotel with breakfast. In Amritsar.
02 Night accommodation in Hotel with breakfast. In Katra.
03 Nights accommodation in Houseboat/Hotel with breakfast. In Srinagar.
01 Nights accommodation in Hotel with breakfast. In Gulmarg.
02 Nights accommodation in Hotel with breakfast. In Phalgam.
Shikara tour in Dal Lake.
Same day trip to sonmarg.
All transportation and sight seeing pick up and transfer by Indigo car/ Toyota innova/Tavera/Xylo/Tempo traveler. From Delhi to Delhi. Depends on the No of Persons for travel.
Your Tour Does Not Includes:
Expenses of personal nature such as tips, telephone, calls, laundry, liquor etc.
Entrance fees during sightseeing.
Any other item not specified.
Meals other than those specified in the inclusions
Personal expenses like portages, tips, laundry, mineral water etc
Any activity not mentioned in the inclusions
Charges of hiring golf kit, pony etc & Gandola Ride at Gulmarg
Charges for trekking / excursion at Pahalgam
Note:
The vehicle provided to the client is none air-conditioned and is not at his disposal. It is for the specific services as mentioned in the program. Local sightseeing in Gulmarg & Pahalgam is not included. (Srinagar/Jammu vehicles are not allowed to do local sightseeing in Pahalgam & Gulmarg). In certain sensitive areas the vehicles are not allowed to stop or wait. We request you not to force the driver to stop the vehicle at such places, against his advice Any other item not specified.

Vacation in Kashmir